Top 3 Photography Courses In Ahmedabad , Gujarat , India
YES, you found it. Best 3 photography courses in Ahmedabad city. Before I share more about those courses, lets see why are these photography courses are best in entire city?
Why we say , our courses are top 3 photography courses in ahmedabad ?
Want to learn photography ? Are you searching for the best institute to guide you ? Well I was doing the same, when I planned to start my photography career. What I found back than was nothing but just some fraud photography institutes. Hence on that day it self i decided to start something to help other photographers to learn. I am a self learnt person, I trained my self, I know it is not as easy as it sounds. But I had no option. Now we are making sure that you do not have to go through all trouble for learning photography.
So lets talk about our photography courses. Our photography institute is based in Ahmedabad city, so our photography courses are available in ahmedabad city only. For distance learners , we have option of online photography courses. Our courses are mainly divided in three main categories.
 1) Basic Photography Course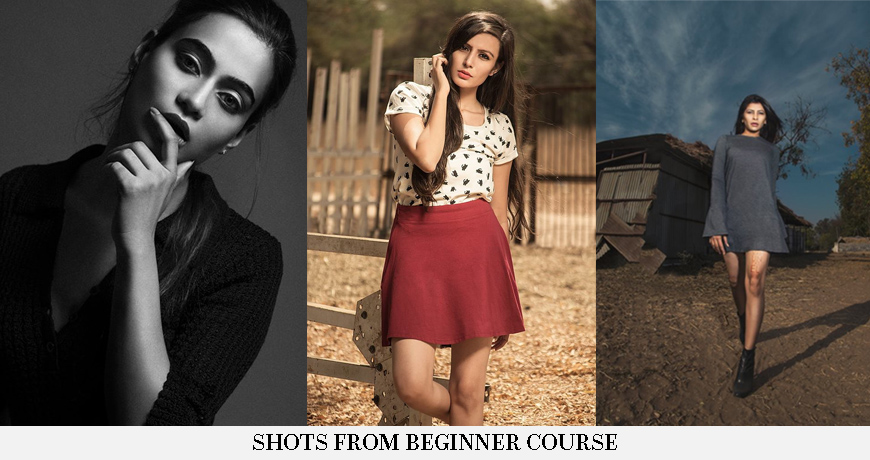 Basic photography course / Beginner level photography course, is perfect photography course for photographers who are very new to the photography field. In basic photography course, all we need from your side is a DSLR camera. We will teach you everything from photography fundamentals, to photography lighting techniques followed by 4 shoots with models for your practice, and the photo editing sessions will surely uplift your photography games.
Learn more about our beginner level photography course. 
2) Intermediate Photography Course
Intermediate level photography course is perfect photography course for photographers with basic knowledge. A photography course shining lights on topics like Fashion photography, Food photography and Product photography. This photography course covers up Indoor & outdoor lighting techniques. Advance photography techniques. There are 4 photo shoots with the models followed by advanced editing sessions. Finally, this course will give you a uplifted portfolio, and a good hand on experience in different photography fields
Learn more about our Intermediate level photography course.
 3) Master Level Photography Course
Say hello to our most advanced fashion photography course. Course that will surely take your photography skills to next level. 22 photo shoots, 1 full day shoot with international model and crew, advanced retouching sessions and much more. A photography course properly crafted for professional photographers. Learn advanced studio lighting techniques, create your own concepts and shoot them with our gorgeous models, 100% practical approach towards learning, rise your photography game with international models. This photography course does not need any introduction. As it has been the most favorite course, since we have introduced it to the photographer community.
Learn more about our Master level photography course.
To know more about any given photography courses feel free to reach out on +91 9898 550 223 
If you really want to learn anything, no one is there to stop you. For students who can not effort to come to us for the photography course in ahmedabad . We also have option to help them with video call sessions, so that they can learn at their own home. Our blogs are also very good way to learn the tips and tricks.
 Our instagram profile where you can find our regular updates and workshops 
https://www.instagram.com/varunpatelphotography/ 
 Some of our student's profiles 
https://www.instagram.com/hemitmodhaphotography/
https://www.instagram.com/ruhaankhanportraits/ 
https://www.instagram.com/pri_vision/ 
https://www.instagram.com/himanshupanchalphotography/ 
https://www.instagram.com/akhil_s_narayan/ 
https://www.instagram.com/magdumshantanu80/ 
https://www.instagram.com/a_m_photography_official/ 
Varun Patel
is the owner at VarunPatel Photography.
He is also an educator who teaches aspiring amateurs and professionals how to improve their skills through articles, photography classes, and photography travel tours. 
He is a retoucher with more than 10 years of retouching experience. 
Varun Patel has mentored more then 300 students by now.
The post Top 3 Photography Courses In Ahmedabad , Gujarat , India appeared first on Varun Patel Photography – BLOG.